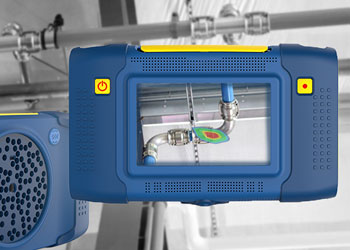 SDT Sonavu Imaging Camera

SonaVu™ is a multi-frequency acoustic imaging camera that takes airborne ultrasound inspection to a new level. Equipped with 112 highly sensitive sonic sensors and a precision optical camera, SonaVu™ brings the power of super-human hearing to focus on its vibrant, color touch screen. It unlocks limitless applications for asset reliability, energy conservation, and safety including compressed air leak management, electrical asset reliability, tightness control of large volumes, and much more.
Ultrasound Solutions - There's no such thing as 100% uptime. Assets fail. The goal is to predict those failures, plan for them and minimize their impact. Ultrasound solutions contribute significantly to asset condition management by providing insight into the health assets, reduce energy waste and improving product quality.
View The Complete Product Line:
ULTRASOUND SYSTEMS
ACOUSTIC LUBRICATION
ULTRASOUND IMAGING
ULTRASOUND KITS
MARINE ULTRASOUND TESTING
SOFTWARE
VIBRATION AND ULTRASOUND ONLINE MONITORING