Lubrication Storage and Handling
OilSafe Corp provides a variety of oil storage and handling packages to protect the health of your lubricant and equipment.
Products
We offer a wide selection of oil storage and handling equipment, labeling options and supplies such as spill control designed to improve your lubrication program and increase asset reliability.
Consulting
Our consultants specialize in pinpointing the strengths and weaknesses of an existing lubrication program and will create a plan that works in practice, not just on paper.
Training
With training courses your personnel will gain valuable insight on implementing an effective lubrication program and improving equipment reliability.

Lube Handling Solutions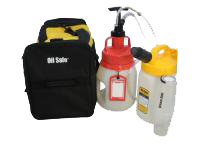 The OilSafe lubrication management system is visually intuitive, removing risk from your maintenance process at every step along the way. It prevents the machine failures and downtime you thought were unavoidable.
OilSafe keeps your entire manufacturing environment running better, longer, safer, cleaner -- so your business will, too.

Bulk Storage and Handling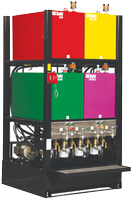 OilSafe delivers best practice contamination control in a compact and space efficient form. Ideal for organizations that need the superior contamination control, working within budget and space constraints.
Features include:
Dedicated pump and filter per tank – to prevent cross contamination of lubricants and ensure maximum cleanliness.
Spill Containment – built in spill containment for EPA and SPCC compliance.
Flame Resistant Fire Suppression Hose Assemblies – MSHA CFR30 rated
12 Gauge Aluminized Tanks available in 4 sizes and 10 colors – 30, 65, 120 & 240 Gallon
Delivered pre-assembled – with detailed owner's manual including installation instructions.
Choose from one of 9 pre-configured systems or configure your own by determining the number and size of tanks that best suit your requirements.

Air Sentry Dessicant Breathers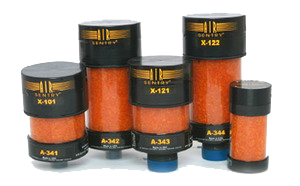 Air Sentry breathers first set the gold standard with their introduction in 1997. Achieving near total control of fluid system contamination, Air Sentry has led the industry by improving productivity, prolonging fluid life, reducing maintenance costs and controlling expensive downtime. The pace of a competitive world absolutely requires this level of performance.
Air Sentry breathers are designed to replace the breather cap or air filter on gear boxes, hydraulic fluid reservoirs, bulk storage tanks, oil drums, oil-filled transformers and other fluid reservoirs. Air Sentry desiccant breathers adsorb water from the air before it enters your fluid system and remove particulate contaminants as small as 2 microns. The silica gel changes color as it becomes depleted, turning from gold to dark green. It's easy to identify the condition of a breather and quickly replace it, maintaining the cleanliness of the fluid reservoir.